UPS Power Manager
Welcome to the UPS power manager home page.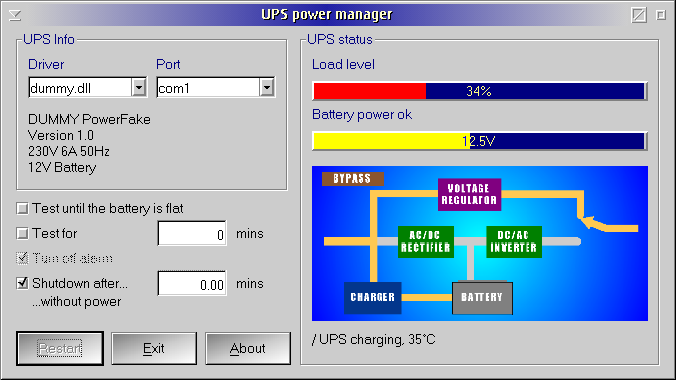 The UPS power manager currently only works with megatec compatible UPS devices. However, the application has been designed to support drivers for a large number of UPS devices. These drivers can be developed by anyone with a knowledge of C programming for OS/2. Example drivers are provided as open source under the GNU lesser public license.
Initially, a dummy driver and a megatec driver are provided
The megatec protocol ought to support the following devices
Fenton Technologies models

PowerPal L series
PowerOn
PowerPure

Effekta MI/MT/MH models (2502 cable)
PowerGuard PG-600
PowerCom SMK-800A, ULT-1000
Giant Power MT650
UNITEK ALPHA 500 IC
Unitek Alpha 1000is
SuperPower HP360, Hope-550
The dummy protocol supports no devices, but it is very handy as a driver development template.
Download:-
You can download the UPS power manager for free, but I would ask you to email with information about which UPS device you are using this with, how well it works, and/or which UPS device you would like to have supported next.
No feedback equals no further development - you have been warned!
Download UPS power manager 1.10Mb - Version 1.02-30.C.05
The following driver seems to work with some trust devices:-
Driver flowchart
A driver flowchart is available here as a pdf document. You may find this useful for driver development.
UPS power manager driver flowchart
Contact:-
Further reading:-
The best source of information about UPS devices, and the protocols they use, can be obtained from the Network UPS Tools web site